David Ferguson has written an article that answers the question about the Gilbreth children, "Where are they now?" Click here to read the article on the Gilbreth Network On Line.
Gilbreth family tree, as published in the 1949 edition of Cheaper by the Dozen (Thomas Crowell publisher)--see below the tree for a typed version if this image isn't clear on your screen: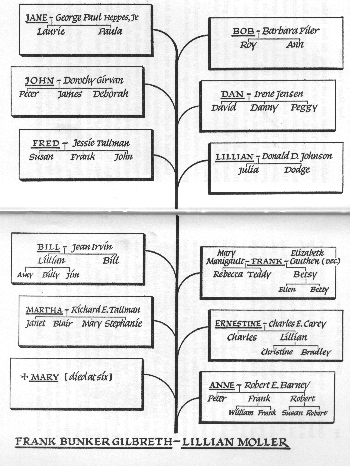 Below is a typed version of the chart above. Keep in mind that this information is accurate only as of 1949; it does not include births after that date.
Frank and Lillian
The Dozen & Their Spouses
The Dozen's Children
The Dozen's Grandchildren
Frank Bunker Gilbreth m. Lillian Moller
Anne m. Robert E. Barney
Peter, Frank, Robert
William, Frank, Susan, Robert
Mary (died at age six)
Ernestine m. Charles E. Carey
Charles, Lillian
Christine, Bradley
Martha m. Richard E. Tallman
Janet, Blair, Mary, Stephanie
Frank m. Elizabeth Cauthen (dec.

m. Mary Manigault

Betsy, Rebecca, Teddy
Ellen, Betty
Bill m. Jean Irvin
Lillian, Bill
Amy, Billy, Jim
Lillian m. Donald D. Johnson
Julia, Dodge
Fred m. Jessie Tallman
Susan, Frank, John
Dan m. Irene Jensen
David, Danny, Peggy
John m. Dorothy Girvan
Peter, James, Deborah
Bob m. Barbara Filer
Roy, Ann
Jane m. George Paul Heppes, Jr.
Laurie, Paula